Soak Tank Service in Chino, CA
Every commercial kitchen needs a high-quality soak tank to remove carbon buildup, oils, grease and fats from stainless steel and aluminum kitchen tools and equipment. Diversified Kitchen Solutions is the leading provider of professional soak tank service, improving efficiency in your operations—and even improving the longevity of the utensils you use to prepare and serve food.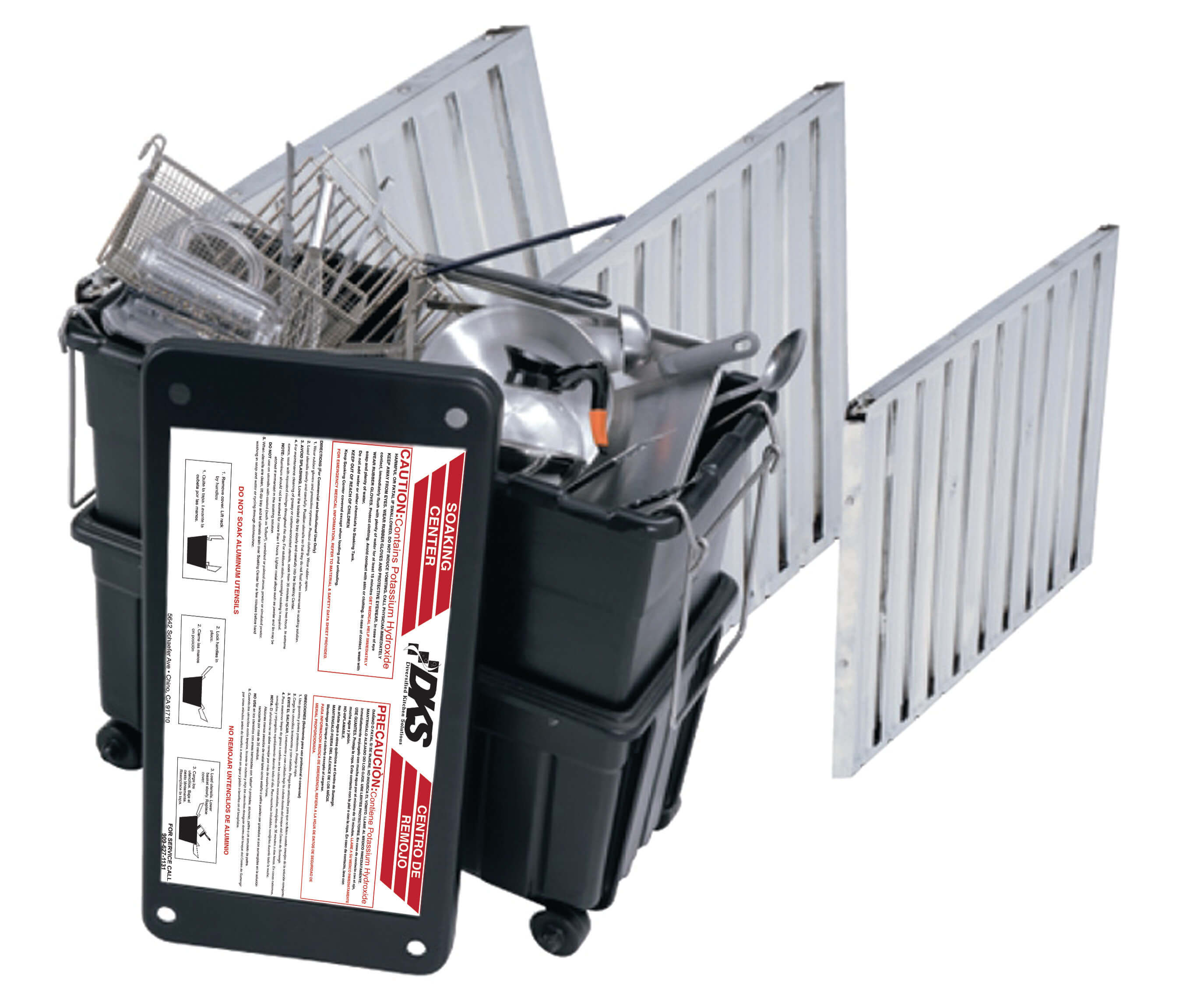 Expert Soak Tank Cleaners
We've been providing soak tank services for commercial kitchens for decades, saving hours of labor cost and keeping your kitchen equipment sparkling clean. Our premium-quality soaking center is a self-contained system that consists of a durable polyurethane tank and our proprietary soaking solution.
We mount our tanks on wheels for ease of movement—you can place your tank wherever you need it to free up space in your kitchen. It's also small enough to fit under kitchen prep tables, so you can easily push it out of the way when not in use. Our soaking solution is non-flammable, odorless, environmentally friendly, biodegradable and alkaline. It completely cuts through the toughest baked on grease and grime, making it easy for your staff to get pots and pans clean without scrubbing or scraping.
In other words, there's no safer solution out there to get pots and pans completely clean!
Soaking Beats Scrubbing
DKS SOAKING CENTER
The DKS Soaking Center – is self-contained. DKS is the premier Soak Tank cleaner, and we are centrally located in Chino, CA and serving all of Southern California. STRONG but SAFE! Our Soaking System includes a tough polyurethane tank and our proprietary soaking solution. Our soaking solution is a non-flammable, odorless, environmentally safe, biodegradable, alkaline cleanser. Our special solution meets USDA guidelines for use in the foodservice industry. Our tank is mounted on wheels, so it is easy to move wherever you need it and is designed to fit easily under a pre table so not to use valuable kitchen space.
Labor Savings – Our soak tank cleaners eliminate the most difficult, time-consuming part of clean-up no scrubbing or scraping! This saves many hours of staff time. After soaking pots and pans, simply rinse and sanitize in your sink.
Cost Savings – Soak tank cleaners reduce labor expenses, extend the life of expensive kitchen equipment which results in substantial savings on cleaning materials.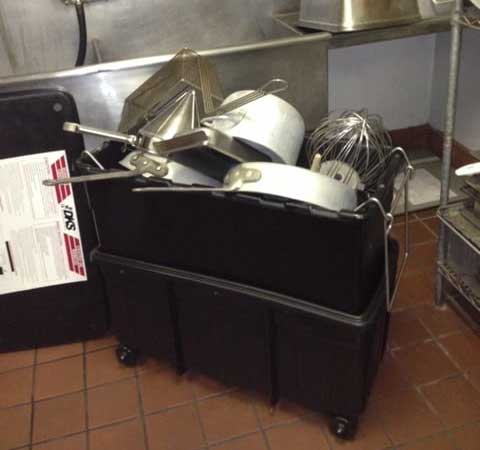 Always on the Job – The Diversified Kitchen Solutions Soak Tank System is always there when you need it. Think of it as a trusted and reliable employee who is always ready to clean. The DKS soaking system is multi-use and easily cleans grease filters, you can soak everything from oven racks, burner elements and fryer baskets to oven doors and cookware that is too greasy for the dish machine.
Safe & Easy to Use – Our solution is reusable over and over again. Since the solution stays in its own tank, there is no need to discard it after one use. The same solution continues cleaning right up to the next scheduled service. Only a special trained DKS technician changes and mixes your solution, so you don't have to worry about accident, misuse, or product waste. We make sure the strength of you solution is right every time.
Soaking Beats Scrubbing
Instead of wasting staff hours that would otherwise be spent scrubbing pots and pans, rely on Diversified Kitchen Solutions to keep the soak tank at your commercial kitchen running at peak performance. Contact us today at 909-627-1131 to learn more or to schedule your soak tank service in Chino, Chino Hills, Ontario, or Pomona, CA. We also sell commercial kitchen cleaners and range hood grease filter replacements!